Product description
Product reviews

High Performance Tablet 10.1 inch: Features a faster 1.8GHz Octa-Core CPU and 4GB RAM, you can not only obtain seamless multitasking and hyper-fast content streaming experience, but also can view social media, watch videos, play games, complete homework or finish work. With a 64GB internal storage and support a SD card expanded to 512GB(NOT included), no longer worry about insufficient memory.★★Please note this is a Wi-Fi tablet, not compatible with SIM card
2022 Latest Android 11 Tablets: Equipped with the latest Android 11 system (GMS certified). Automatic subtitleing, smart reply, notification "bubble", dark theme, eye protection mode etc. It also launches apps 20% faster than Android 10 OS. New control spaces and more privacy features allow you to create a rich user central expression. You can enjoy installing apps such as Netflix, Tik Tok, YouTube, Twitter from the Google Play Store. It is a good tablet for kids and adult
Metal Body & 1080p Full HD Screen: Plimpton 10 inch android tablet uses a slim metal body, and the 2.5D touchscreen display in a good-look will be a better for using and will not be easily scratched. 1920 x 1200 Full HD IPS screen with a wide viewing angle that brings you vivid display image. Easily enjoy immersive reading on the large-screen display, and switch to eye comfort mode when read at night. ★★Since the LCD screen is fragile, we recommended to use it with P50 tablet screen protector
Multi-function Google Tablet: Easily connect this tablet to the docking keyboard (sold separately), and get the ultimate experience of tablet and laptop anytime, anywhere. Enjoy the use of 2.4G/5G WIFI frequency band and Bluetooth 5.0, with stronger signal and higher speed. A 180 cm USB-C cable made distance charging more convenience. Screen cast is supported. Project your tablet to a big TV screen wirelessly when needed. ★★If your tablet has problems with WiFi, please contact us at any time
Dual Camera & Long Battery Life: Tablet 10 inch Android 11 equipped with front 5MP & rear 13MP dual cameras, you can capture and share those special moments with your friends and family in your life. Built-in 6000mAh battery, your entertainment will last up to 7-10 hours.(The battery life varies based on device settings and usage etc. Certain apps may reduce battery life) ★★Plimpton Tablets come with 1 year free replacement and lifetime warranty, please don't hesitate to get in touch with us.
PlimPad P50, Not Only A Tablet
PlimPad

 

android 11 tablet 10 inch

 

to be a powerhouse, giving you even more control over your privacy and data. Powered by

 

T610 Octa-Core CPU

 

with 1.8GHz that brings you an immersive gaming experience and super-fast content streaming

4GB RAM +64GB ROM+SD card expanded to 512GB

(NOT included SD card), enjoy the magical experience of smooth multitasking and storing files without worries, add power efficient
P50 unveils the untapped boundaries of beauty, elegance, and class with its premium

 

metal body design

. Featuring with a wide and stunning

 

1920*1200 FHD IPS display

, which presents a bright display with more abundant colors and more delicate picture quality from all angles
Easily connect to the docking keyboard (not included), turn your P50 10 inch

 

tablet into a PC

 

in seconds, edit your homework, papers, emails, ppts comfortably with our smart keyboard at anytime anywhere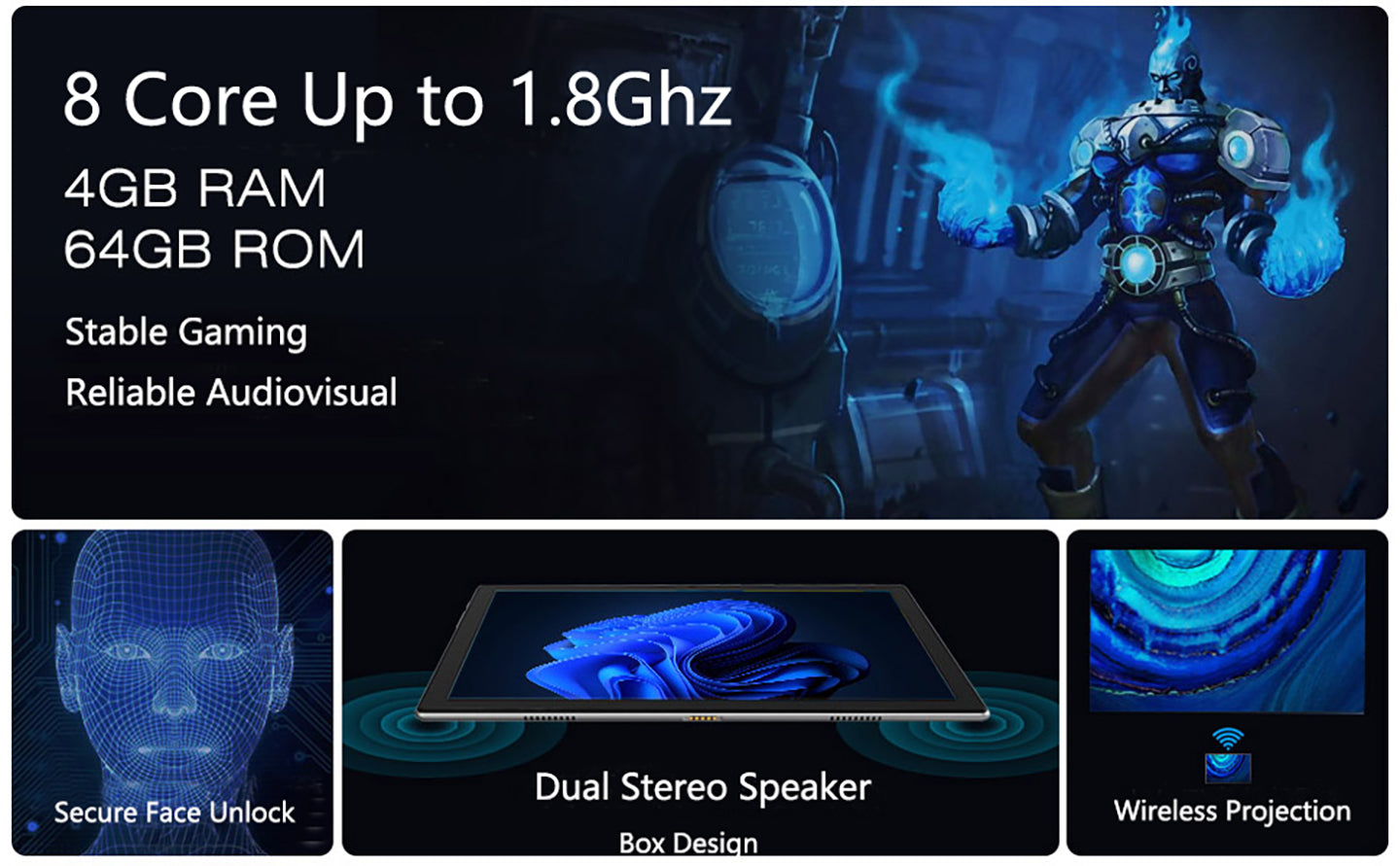 2022 Tablets 10 inch Android, Meet All Your Basic Needs
Supporting face recognition, the 3D

 

face unlock

 

feature works in dark and bright environments; Simply set up face recognition to replace the prolonged password typing experience
Android 11 tablet with

 

dual speakers design

 

to ensure an immersive sound experience as well as in-game positional accuracy.

 

13MP sony rear camera

 

with auto focus and 5MP front camera bring everything you see come to life in your hands
With

 

2.4G+5G WiFi

,

 

Bluetooth5.0

 

, PlimPad P50 tablets supports

 

wireless projection

, project your tablet screen onto a large display, without the need of an adapter cable
About Plimpton
Plimpton is one of the professional manufacturers specialized in producing and selling consumer electronics product, we have over 10-years history of tablet design and manufacturing.
PlimPad P50 is the newly released model with enhanced features, offers you best value for money, enrich your experience by an external keyboard choice.
Comes with basic apps installed, such as Google Play store, Chrome, Gmail, Google Maps, YouTube. You can download any other apps you like from Google Play store.
Technical Details
Android 11 OS

1.8Ghz 8-Core processor

10.1-inch 1920X1200 FHD IPS

4GB RAM + 64GB Storage

13MP Rear + 5MP Front Camera

Google Assistance Voice Control

Wireless Projection

6000 mAh Battery
Latest Android 11 OS

Latest Android 11 system, helps you get to what matters most on your tablet. Faster controls that make routines easier. Pre-installed Google play store gives you full access to millions of the latest Android apps, games, music, movies, books & more, with no bloatware or unexpected ads

Large Storage Space

Equipped with an incredible, energy-saving 8-Core processor and 4GB RAM, PlimPad P50 is quicker and more responsive, 64GB internal storage can be easily expandable to 512GB by TF card, keep all your favorite media with you any place you go

Full HD 1080P Glass Screen

Comes with a 10.1 inch 1920 x 1200 brilliant IPS HD display, enjoy widescreen movies and games with wide viewing angles, less glare, and more brightness while you watch. The specially designed blue light filter screen enables eye comfort mode and helps reducing eye strain

Long-lasted Entertainment

6000mAh battery, up to 10-12 hours battery life, can effortlessly support you to enjoy reading, browsing, watching movies and gaming. Enjoy movies and TV shows with 2.4G / 5G Wi-Fi support with no buffering
Full Metal Body Tablet

Built with a metal body and 8mm ultra-thin bezel, the P50 offers remarkable visual experiences, whether you are seeking inspirations or just catching up on some work. Lightweight metal design make this tablet possible to take anywhere, anytime

Dual Box Speakers

Dual speakers are distributed on the sides of tablet to achieve a stunning 360-degree stereo surround sound effect, allowing you to have an immersive experience while watching movies, music, etc. Clear sound quality and easily adjustable volume, while also reducing distortion

Google Play Store

Preinstalled Google Play, gets you started quickly. Just say "Hey Google", let Google do the rest for you, get answers, take calls, play a song, check the temperature, control smart devices, and more, make life smarter

Perfect Tablet Choice

This Google tablet adopts a excellent true-to-life details and easy to read in any light. Wide viewing angles, less glare. Enable the Dark Mode at night for pleasant and comfortable viewing experience. The excellent performance and stylish appearance making it the perfect choice for Mother's Day, Father's Day, birthday, and bar mitzvahs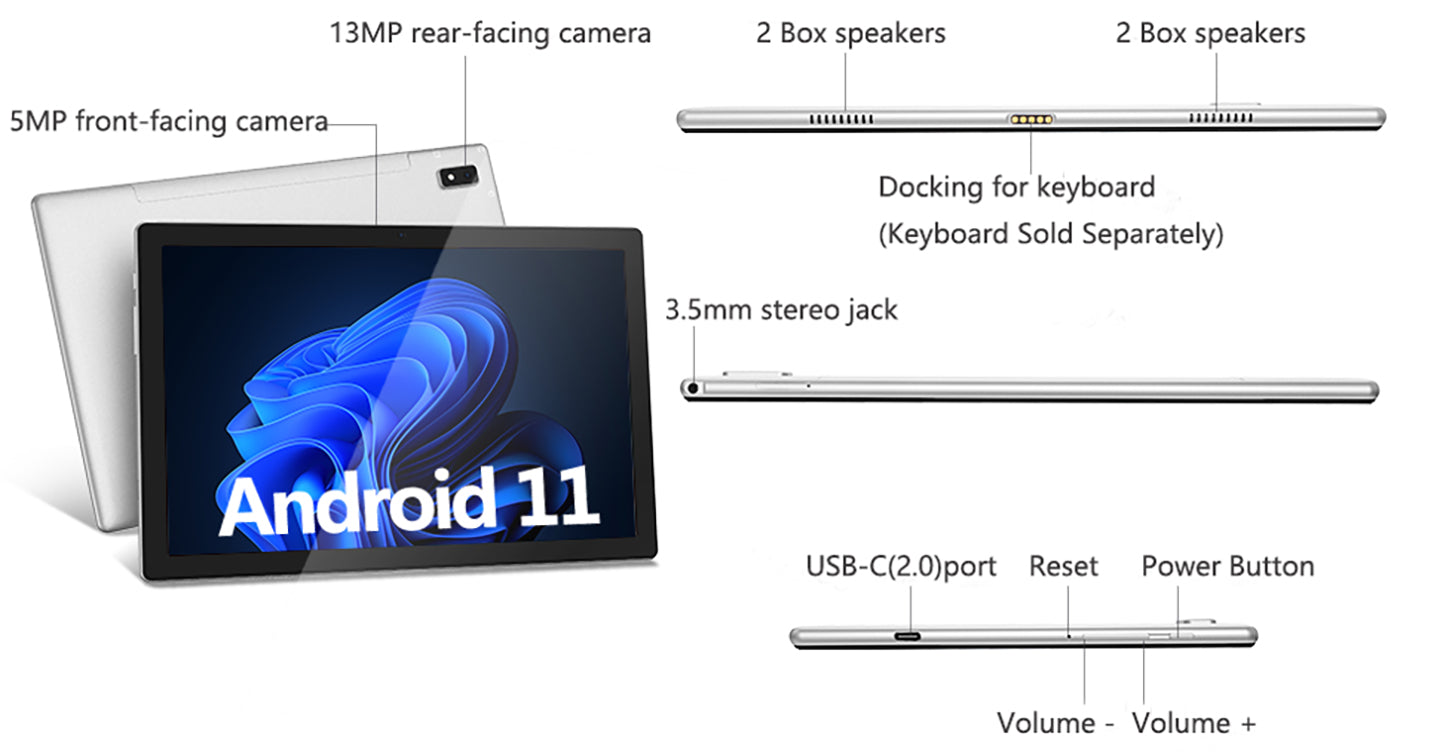 Problems and troubleshooting
Q1: Does it support google related software?
A: P50 10.1 inch tablet has the latest Android 11 system, Google Playstore preinstalled. You can download any App you like from the Google Playstore.
Q2: The tablet cannot be turned on or cannot be charged.
A: Please charge the tablet for at least 30 mins if it cannot be turned on out of the box. And use the original charger to fully charge for the first time. Type-C chargers for other electronic products may not be compatible.
Q3: MicroSD card does not show up.
A: If MicroSD card is undetected, please format the card with fat32 format manually. We recommend inserting or removing the SD card when the tablet is turned off.
Q4: Does this tablet come with HDMI ports?
A: The tablet did not support external HDMI connector.
Q5: GPS signal is weak.
A: Because this tablet is a WiFi model. Therefore, WiFi should be turned on for better GPS positioning. If you use your tablet for navigation during the journey, you can connect the tablet to the hotspot on your phone for precise positioning.
Q6: Screen arrives broken.
A: Due to an accidental bump during long-distance transportation, the screen may be broken when you received it. Please email and we'll replace it at once
Q7: Need More Help?
A: If you have any questions, please following method. 1. Access the order history and click the "question" button for help. 2. Please check the email address provided in the instruction manual and send it to us, we will reply it within 24 hours.